We all have been there, done that when we send a WhatsApp message and our auto-correct or sometimes we ourselves make a typo which we want to correct but there wasn't any option available. But there is a good news for you, as WhatsApp is working on a feature which will let you edit your messages even after sending.
WhatsApp is reportedly testing a feature which will allow users to edit the messages after they have been sent. According to WhatsApp update tracking website WABetaInfo, the feature is available in Android beta version 2.22.22.14 of Meta owned messaging application with largest user base.
According the screenshot shared on the website WABetaInfo, WhatsApp messages, which have been edited will display an "Edited" label next to it.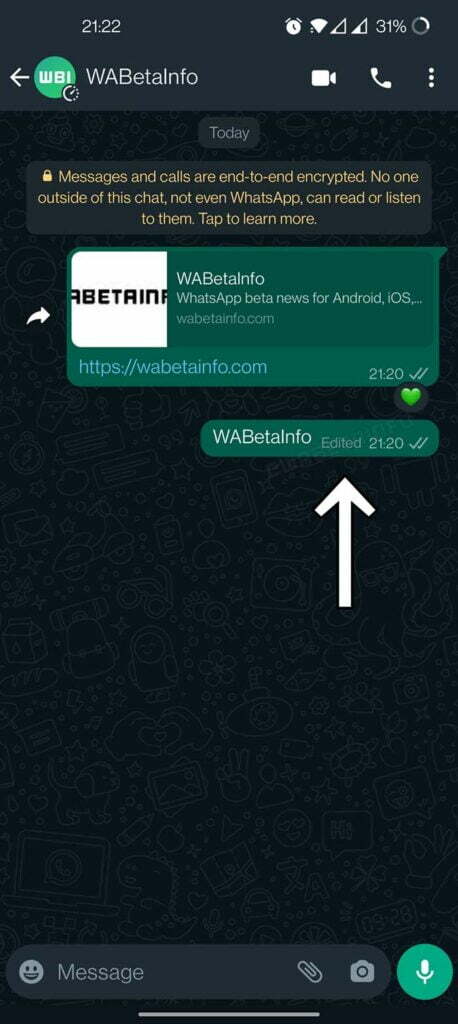 Also, as this feature is in development and is available only for beta users with App version 2.22.22.14, there is no information about when this feature will release for general public.
Among other well known and mass used messaging app Telegram, this feature is already available since 2016 and users can edit the messages in one to one chat or in group chats as well. WhatsApp is known for copying features from other famous messaging apps such as Telegram & Signal. Delete for everyone was a similar feature ported from telegram as well as the message reactions was also available in Telegram before WhatsApp introduced it.
WhatsApp is reportedly working on other features like large user groups, a subscription plan for business users, caption for shared documents, and blocking screenshots on view once marked images.
No doubt WhatsApp is the messaging app with largest user base on the planet but as Uncle Ben said to Peter Parker, "With great power comes great responsibility", but since it was purchased by Facebook (now Meta), it has been in the news for the wrong reason many times, like recently when many users complained on social media that they are receiving messages from random businesses and sometime reputed businesses and organizations without ever registering for WhatsApp updates  with them and even disabling/stopping the messages when they received it for the first time won't stop them from messaging again. Let's see what it brings for us and what path does it take in the future as a large base now depends on WhatsApp for general communication.
Please do follow us on social media for more tricks and tips and latest technology news.